Triangle Tree Stencil - with Ginko leaves and berries - available in two sizes.
Stencils are really simple to use and make a fabulous, unique and creative alternative to wall stickers or wallpaper. Unlike stickers you'll be able to paint any colour you like, position where you like and use and reuse the stencils as many times as you need to get the look you want. Stencils won't peel off either so they're safe for use in bedrooms and nurseries as well as the playroom, oh and don't forget that stencils can also be used to paint furniture and fabrics too so why not create some scatter cushions or brighten up some furniture!
With this pack you'll receive all the stencils you need to create a beautiful Tree mural. The main tree should be painted first, simply apply stencil number one to the wall, paint and remove. Line up stencil number two, paint and then finally stencils number three and four. Once you've stencilled the tree use the additional stencils to add leaves and details.
We'll include pictorial instructions with your stencils.
How to stencil the Tree
There are 4 stencils which make up the whole tree. You'll need to paint each one individually.
Step 1 - Use the trunk stencil first. Position the stencil on the wall and secure. The trunk is central to the design. Paint the stencil then remove it.
 Step 2 - Position the largest stencil above the painted trunk. There should not be any gap between what you've already painted and the branches on the sheet. Secure the stencil and paint it. Remove the stencil.
Step 3 and 4 - Repeat the process with the tree sides, lining up the stencil against previously painted branches.
All done. You can use the stencils as many times as you like. Stencil a whole forest if you dare!
The next step is the best step! Adding leaves and details. You can use the stencils as many times as you like to get the look you like. And you can choose any colours you like to match your room scheme!
Our stencils are...
Easy to use and reusable.
Made from thick durable plastic Mylar (190 microns).
Washable. Flexible.
Suitable for use with all types of paint including acrylic, emulsion, spray-paint and more.
Ideal for decorating any surface including walls, fabric, furniture and other craft projects.
In Stock for fast dispatch.
Sent in protective packaging with instructions for use.
Made in the UK.
The size information above refers to the actual size of the stencil design.  The design will always be cut from a slightly larger sheet to allow for a border.
Stencils provide a versatile, cost effective and fun way to decorate your home. Stencil any surface including walls, fabric, furniture, floors and more. Just use the correct paint for the surface you are working on and get stencilling! Not sure where to start or what you'll need, see our "HOW TO" page for top tips and advice.
---
 All stencil designs & illustrations are copyright of The Stencil Studio Ltd.
Customer Reviews
21 Feb 2023
CLAUDIA J.

United Kingdom
Ginko tree window dressing
Thoroughly absorbing and inspiring. My first attempt at such an ambitious project (for me) -large size, fine stretchy muslin for a window blind. I did a trial on wallpaper lining taped to the kitchen table, which helped position leaves on branches before committing stencil onto fabric. I look forward to using your gorgeous stencils on other projects. Lovely people with lovely designs. Thank you all.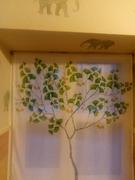 01 Nov 2020
Roberta E.

United Kingdom
Triangle Tree with Ginko Stencil Pack
I love the high quality stencils and excellent service. It helps you to enjoy a creativity you thought you did not have and see your art on the wall of your house or wherever. It is way to bring nature into you home and the sense of achievement is a joy. I will be doing more and love it.
You might also like